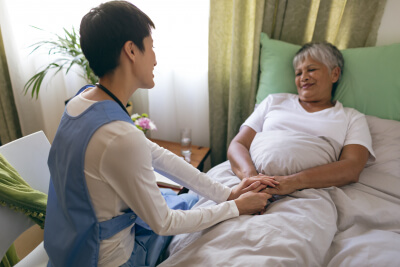 With over 20 years of experience, Abik Healthcare is the fastest-growing agency in Prince George's County. We consistently promote excellence, professionalism, and ensure that we uphold our patient's safety as our #1 Priority.
With a staff of 50, we instill in every worker from nurses to receptionists that our patients are the most pivotal aspect of our business.
We are here to administer exceptional client services. We will provide an opportunity to experience optimal satisfaction and quality of home care services. We will educate patients on a healthier way of living to lessen the chances of returning to the hospital.
Count on us if you need a professional therapist, nursing aide, or home health aide in Riverdale, MD.
Our Services
Abik Healthcare provides a wide range of services to assist in your care, promote, maintain, and restore health as well as minimize the effects of illness and disability.
Our Mission
The agency's mission is to provide professional and paraprofessional services to our clients in their homes, assisting them to achieve the highest level of potential in their day-day self-care activities.
We are committed to providing high quality, multidisciplinary care by professionals who recognize the need for a comprehensive assessment of needs from both the client and professional point of view.
What We Do
We provide responsible and trustworthy services, dependable, reliable, and flexible contracts.
Our Company
Abik Healthcare Services is accredited by the Joint Commission to offer Skilled Nursing, HHA, PT, OT, and Speech therapies.
Our Quality Assurance Program
Our Quality Assurance Program is designated to systematically monitor, measure, and evaluate care standards, appropriateness of care, and services provided to assure clients with the highest possible level of service. We strive to provide exceptional home health care from start to finish, emphasizing a personal touch approach that enhances the care experience. No task is too small or large for our nurses, therapists, and home health aides who are highly skilled and compassionate.
We take extreme care in our professional affiliations, employee recruiting, training and certification, background screening, and physician consultations. That's why every service we provide is supervised by our professionals and administered firm the initial consultation to recovery or treatment completion.
It is the policy of our agency that home health services shall be available and shall be rendered to the total population of our area of services, regardless of the recipient's race, sexual orientation, religion, age, sex, disabilities, ethnic/cultural background, or national origin.
Abik Healthcare offers just the right care to meet your needs.